Whats the best Photobooth start time?
FOR WEDDINGS - The best start time would be 8pm for 4 hour, 8:30-9pm for 3 hour & 9pm for 2 hour Photobooth Packages. Think of us like the band, we are similar to their times & run to 12pm latest. At this stage, dinner has finished, the band near ready to rock and drinks are starting to flow
For orther events, birthdays etc. times can be suited to your event but our 12pm finish time does apply.
Im concerned theirs not enough space in the venue
If in doubt, Please discuss measurements with coordinator - We can not be held liable for spacing issues on arrival ie. Ceiling too low, too cramped to move

As a rule of thumb, our Photobooths require 10ft height & 12ft minimum width (for guestbook/props table etc.). We are more than happy to liaise with venue, shoot us a email

(WEDDINGS) Who empties the postbox at end of night?
If we are providing a Photobooth additionaly on the night, we will empty the postbox once the Photobooth has closed (in or around 12pm) We have a member of hotel staff & main part of the bridal party to assist with emptying into the hotel safe/office or bridal room if hotel do not want to know 🙂

If we are only providing a Postbox on your day, we will leave a lockbox at reception with a key to empty and will collect the postbox the following day. A text with code to unlock will be sent on postbox setup.
Do you travel nationwide?
We are open to travelling. 60 Miles return travel is covered free on all bookings. Additional miles are charged at a nominal rate. This is calculated on our bookings page when venue address is inputted. Travel is maxed at 300 return and would be our overall travel limit.
Our base is Co.Sligo & have a second unit in Co.Mayo
(WEDDINGS & PARTIES) What about guestbooks, are they included?
Guestbooks are included in all 3 & 4 hour packages. Our standard guestbook is a a5 white with 40 white pages.

Upgraded guestbooks are €25. These are inbossed with mr & mrs / our wedding day (other designs available) These are a4, 40 pages (80 back to back) white, spiral binded.

Personalised guestbooks are €50. Same size and style as upgrade but customized with names, event name or custom printed with any design. 40+ designs to choose from.
How do I make payments?
We require the full balance to be cleared 7 days before the event, unless otherwise agreed. Payments can be made in client portal login or via bank transfer (acc details found on balance invoice)

Can I mix and match wedding signs
Yes no problem. All can be customised. For simple altercations such as season flower colours, frame, easel style you see on other sign can be noted when booking. Further altercationas, send a quick email to confirm before placing booking.

What power does Millie the Caravan Photobooth require?
Millie requires 1 regular (& reliable) wall socket. We also need a flat level area for our full fab caravan setup!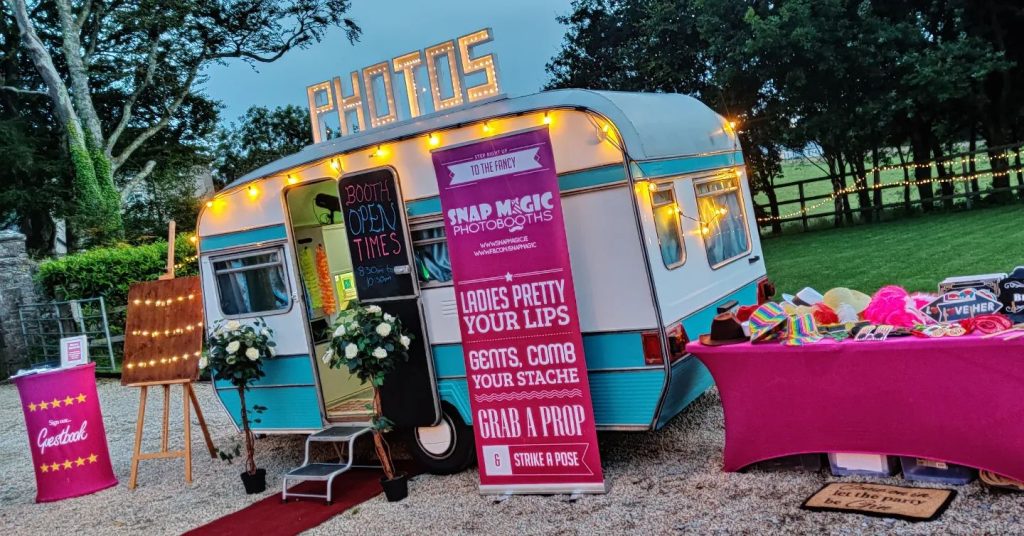 Im not sure what backdrop to choose, can I pick later?
For sure you can choose the backdrop up to 1 month before the event, although events in the meantime may choose what you like, please keep in mind. Simply choose the white backdrop when booking and leave note of backdrop choice at later date.

find out from where we operate